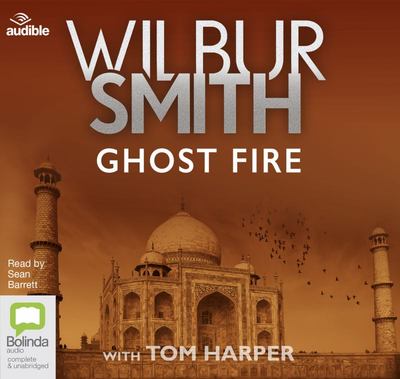 $49.95
AUD
Category: Adult CD | Series: Courtney Ser.
1754. Inseparable since birth and growing up in India, Theo and Connie Courtney are torn apart by the tragic death of their parents.Theo, wracked with guilt, seeks salvation in combat and conflict, joining the British in the war against the French and Indian army. Connie, believing herself abandoned by her brother, and abused and brutalised by a series of corrupt guardians, makes her way to France, where she is welcomed into high society. Here, she once again finds herself at the mercy of vicious men, whose appetite for war and glory lead her to the frontlines of the French battlefield in North America.As the siblings find their destinies converging once more, they realise that the vengeance and redemption they both desperately seek could cost them their lives ... ...Show more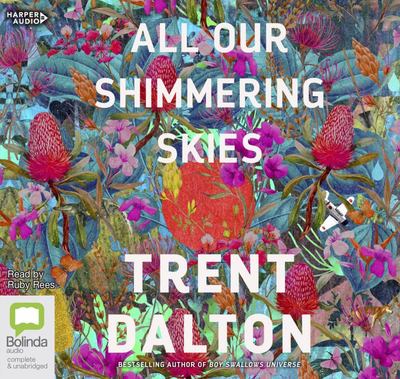 $49.95
AUD
Category: Adult CD
Darwin, 1942, and as Japanese bombs rain down, motherless Molly Hook, the gravedigger's daughter, is looking to the skies and running for her life. Inside a duffel bag, she carries a stone heart, alongside a map to lead her to Longcoat Bob, the deep-country sorcerer who she believes put a curse on her f amily. By her side are the most unlikely travelling companions: Greta, a razor-tongued actress and Yukio, a fallen Japanese fighter pilot. The treasure lies before them, but close behind them trails the dark. And above them, always, are the shimmering skies.A story about gifts that fall from the sky, curses we dig from the earth and the secrets we bury inside ourselves, All Our Shimmering Skies is an odyssey of true love and grave danger, of darkness and light, of bones and blue skies. It is a love letter to Australia and an ode to the art of looking up - a buoyant, beautiful and magical novel, abrim with warmth, wit and wonder. ...Show more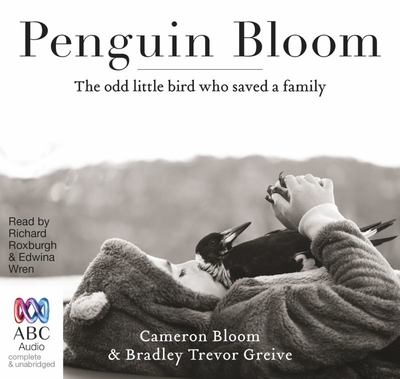 $39.95
AUD
Category: Adult CD
Penguin the Magpie is a global social media sensation. People the world over have fallen in love with the stunning and deeply personal images of this rescued bird and her human family. But there is far more to Penguin's story than meets the eye. It begins with a shocking accident, in which Cameron's wif e, Sam, suffers a near fatal fall that leaves her paralysed and deeply depressed. Into their lives comes Penguin, an injured magpie chick abandoned after she fell from her nest. Penguin's rescue and the incredible joy and strength she gives Sam and all those who helped her survive demonstrates that, however bleak things seem, compassion, friendship and support can come from unexpected quarters, ensuring there are always better days ahead. This plucky little magpie reminds us all that, no matter how lost, fragile or damaged we feel, accepting the love of others and loving them in return will help to make us whole. ...Show more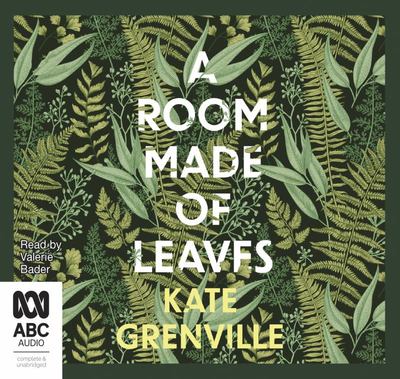 $39.95
AUD
Category: Adult CD
In her introduction Kate Grenville tells, tongue firmly in cheek, of discovering a long-hidden box containing that memoir. What follows is a playful dance of possibilities between the real and the invented.Grenville's Elizabeth Macarthur is a passionate woman managing her complicated life-marriage to a ruthless bully, the impulses of her own heart, the search for power in a society that gave her none-with spirit, cunning and sly wit.Her memoir reveals the dark underbelly of the polite world of Jane Austen. It explodes the stereotype of the women of the past - devoted and docile, accepting of their narrow choices. That was their public face-here's what one of them really thought.At the heart of this book is one of the most toxic issues of our times - the seductive appeal of false stories. Beneath the surface of Elizabeth Macarthur's life and the violent colonial world she navigated are secrets and lies with the dangerous power to shape reality. ...Show more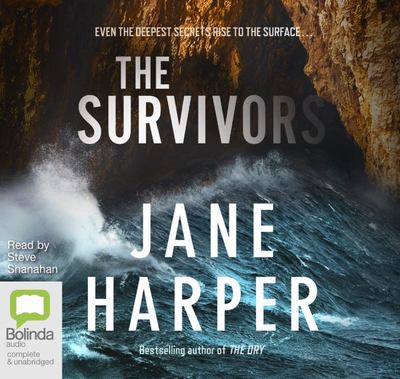 $49.95
AUD
Category: Adult CD
Kieran Elliott's life changed forever on a single day when a reckless mistake led to devastating consequences. The guilt that haunts him still resurfaces during a visit with his young family to the small coastal town he once called home.Kieran's parents are struggling in a community which is bound, for better or worse, to the sea that is both a lifeline and a threat. Between them all is his absent brother Finn.When a body is discovered on the beach, long-held secrets threaten to emerge in the murder investigation that follows. A sunken wreck, a missing girl, and questions that have never washed away ... ...Show more
$39.95
AUD
Category: Adult CD
A response to the devastating 2019-20 bushfires, Animals Make Us Human both celebrates Australia's unique wildlife and highlights its vulnerability. Through words and images, writers, photographers and researchers reflect on their connection with animals and nature. They share moments of wonder and reve lation from encounters in the natural world: seeing a wild platypus at play, an echidna dawdling across a bush track, or the inexplicable leap of a thresher shark; watching bats take flight at dusk, or birds making a home in the backyard; or following possums, gliders and owls into the dark.Hopeful, uplifting and deeply moving, this collection is also an urgent call to action, a powerful reminder that we only have one world in which to coexist and thrive with our fellow creatures. By highlighting the beauty and fragility of our unique fauna, Australia's favourite writers, renowned researchers encourage listeners to consider it in a new light.Featuring: Barbara Allen, Robbie Arnott, Tony Birch, James Bradley, Mark Brandi, Geraldine Brooks, Anne Buist, Melanie Cheng, Claire G. Coleman, Ceridwen Dovey, Chris Flynn, Nayuka Gorrie, Dan Harley, Ashley Hay, Toni Jordan, Leah Kaminsky, Paul Kelly, Meg Keneally, Tom Keneally, Cate Kennedy, David Lindenmayer, Ella Loeffler, Maia Loeffler, Jen Martin, Angela Meyer, Sonia Orchard, Favel Parrett, Marissa Parrott, Bruce Pascoe, Jack Pascoe, Sue Pillans, Nick Porch, Holly Ringland, Euan Ritchie, Antoinette Roe, Kirli Saunders, Graeme Simsion, Tracy Sorensen, Shaun Tan, Lucy Treloar, Karen Viggers, Emma Viskic, John Woinarski, Clare Wright. ...Show more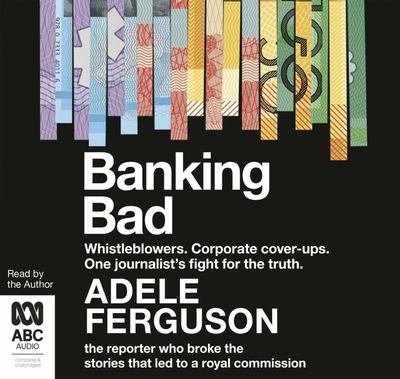 $39.95
AUD
Category: Adult CD
In Banking Bad, Adele Ferguson traces the origins of the banking scandal to the early 1990s, when buckets of money began pouring into compulsory superannuation funds, set up by Labor Treasurer Paul Keating. Attracted by the increasing cash, banks devised corrupt and questionable practices to get their h ands on funds, along with aggressive selling practices that ignored due diligence, trust and honesty. Drawing on her multiple sources who led her to break the story of malpractice – the individuals, business owners, farmers and ordinary people who lost everything. Adele also looks at the falls from grace at the hands of the royal commission of some of the country's most highly ranked captains of industry, the failure of regulators and recommendations of the commissioner, Kenneth Hayne. And she asks whereto from here? ...Show more
The Roadhouse
by Kerry McGinnis; Lexi Sekuless (Read by)
$39.95
AUD
Category: Adult CD
When aspiring actress Charlie Carver learns that her cousin Annabelle has died, she immediately leaves Melbourne to fly home to the remote family roadhouse east of Alice Springs. It has been years since her last visit and her relationship with her mother, Molly, is strained but Charlie is determined to patch up their differences. The reunion, however, is interrupted when Molly suffers a heart attack. With her mother airlifted out for life-saving surgery, Charlie is left to take the reins of the struggling family business, alongside friends old and new, including the captivating local stockman Mike. The authorities declare Annabelle to have taken her own life, but when a woman's body turns up at an abandoned mine site, Charlie begins to wonder what else is being covered up, and why. Beginning a search for the truth, a perilous bush chase unfolds that threatens her own life, causing Charlie to wonder whether she ever knew Annabelle at all ... From the bestselling author of The Heartwood Hotel comes the suspenseful new outback mystery from Australia's authentic rural writer and beloved voice of the bush. ...Show more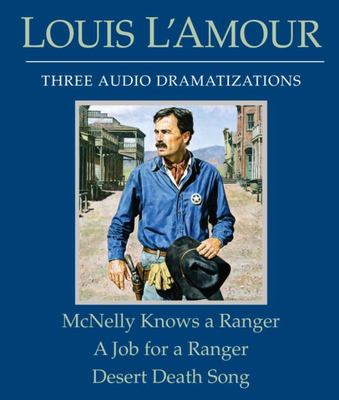 $24.99
AUD
Category: Adult CD
This three-story collection includes: McNelly Knows a RangerFrom the day Chick Bowdrie rode up to Noah Whipple's ranch gravely wounded, Whipple had treated him with kindness--almost like a son. When Whipple is shot by a notorious gunfighter, Bowdrie swears vengeance. Joining McNelly's Texas Rangers, he vows to hunt down the killer along with his gang. But Chick Bowdrie does not realize just how vicious they are . . . or how ruthless they can be. A Job for a RangerThere were bullet holes in the bank window and blood on the hitching rail. Five bandits and ten thousand dollars had ridden out of town and no one at the Rancher's Rest saloon had seen anything but a distinctively colored horse belonging to a local. But Chick Bowdrie soon had hard evidence that he was dealing with savage killers. To clear the name of an innocent man, Bowdrie pursues the murderous gang of bank robbers and cattle rustlers. Desert Death SongPowder Basin--the rugged country at the edge of a dry, forbidding desert--holds more hiding places than most men could find. Nat Bodine knows most of them; holed up in the Basin hills by a posse of over a hundred men, he needs them more than ever before. Jim Morton knows that if anyone is going to escape this posse, it's Bodine, just as he knows that Bodine is the kind of man who wouldn't commit the crime of which he's accused. ...Show more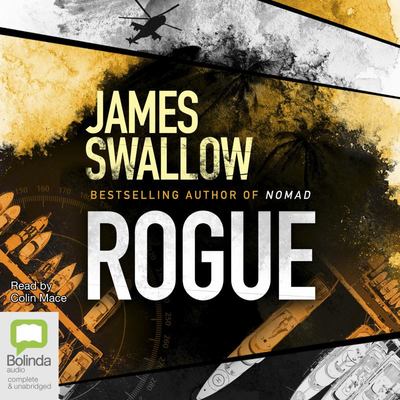 Rogue
by James Swallow; Colin Mace (Read by)
$49.95
AUD
Category: Adult CD | Series: Marc Dane Ser.
In modern espionage, every action has a reaction. One wrong move could sink an entire region into turmoil - even war.Former MI5 operative Marc Dane understands this better than anyone. Dedicating your life to protecting the country means collecting enemies, and a lot of them.But for those hellbent on br inging the West to its knees, each failed plot has one common denominator: private intelligence agency The Rubicon Group, Dane's employer. Only if Rubicon crumbles will their path truly be clear.With the clock ticking, Dane must unpick a monstrous and deadly conspiracy that stretches from the corridors of Westminster to the mountains of Mozambique. One that threatens not only Rubicon, but the lives of millions of civilians. And time is fast running out ... ...Show more