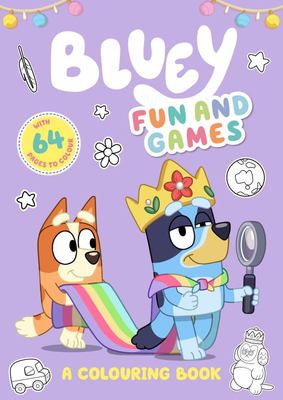 $5.99
AUD
Category: Activity Books
Colour in the grannies, a game of Featherwand, a trip to Rug Island and more in this fun-filled colouring book. Bluey has been a phenomenal success since airing on ABC KIDS in October 2018, amassing legions of dedicated fans and hugely popular ranges of books, toys, clothes, games and more. It holds the coveted position of being the most watched program ever on ABC iView, with over 260 million plays for Series One, and is the winner of an International Emmy for Most Outstanding Children's Programme. ...Show more
$16.99
AUD
Category: Picture Books
Everyone loves Bandit, especially Bluey and Bingo! Find out what makes this true blue dad so special in this hilarious and heartwarming book. Bluey has been a phenomenal success since airing on ABC KIDS in October 2018, amassing legions of dedicated fans and taking the coveted position of being the most watched program ever on ABC iView, with over 200 million plays.  ...Show more
Found
by Bruce Pascoe; Charmaine Ledden-Lewis (Illustrator)
$24.99
AUD
Category: Picture Books
This gentle story set in the rugged Australian bush is about a small calf who becomes separated from his family. The little calf is alone and simply wants his mother, sisters and brothers. He can see other animals, and after running to the river, manages to ask some horses if they are his family. The ca lf's family have been taken away in the back of a noisy truck. So begins the little calf's journey to find his family. In Found we share the calf's point of view in an evocative story, accompanied by stunning illustrations. ...Show more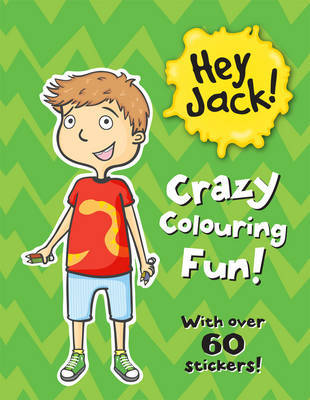 $4.95
AUD
Category: Activity Books | Series: Hey Jack!
Inside these books are lots and lots of brilliant activities, from mazes and word finds to dot-to-dot and colouring in. Plus over 60 stickers!
$16.99
AUD
Category: Fiction
Hattie Maxwell is trying to make sense of her life since the Big Split. It used to be the four of them - Mum, Dad, Ivy and Hattie - against the universe. But now it feels like she's a lone star in a big galaxy. And to make matters worse, her favourite place, Hummingbird House, is going to be demolished! Determined to stop the development, Hattie throws herself into uncovering the secrets of the house. Under a special full moon, she discovers that there is much more to the grand old mansion than first meets the eye... But will it be enough to save Hummingbird House? Or her family? A classic time-slip novel with a contemporary twist, THE SECRET LIBRARY OF HUMMINGBIRD HOUSE celebrates standing up for what you believe in, dealing with change and the unstoppable power of friendship. ...Show more
$12.99
AUD
Category: Fiction | Series: Cowboy and Birdbrain | Reading Level: 7
Cowboy and Birdbrain are best friends who work for I.F.F.Y. delivery company, a company that do the riskiest, zaniest, most bizarre deliveries ever. They're known for their F.A.R.T.S. (Fast and Reliable Tracking Service). Cowboy is the brains of the operation, and Birdbrain - well, he is a brain but he' s just not brain-y if you get the drift... Anyway, this dubious duo are not the best or even second-best deliverers at IFFY DELIVERIES. They're the WORST. But they're also the funniest! Join Cowboy and Birdbrain on their WACKY adventure, when their boss gives them the following job: URGENT DELIVERY! To: Ship in the Middle of the Ocean. WARNING: Do not get package wet! ...Show more
$29.99
AUD
Category: Picture Books
A stunningly presented modern-day fable from world-renowned talent Oliver Jeffers. There was once a man who believed he owned everything and set out to survey what was his. "You are mine," Fausto said to the flower, the sheep, and the mountain, and they all bowed before him. But they were not enough fo r Fausto, so he conquered a boat and set out to sea . . . Combining bold art and powerful prose, and working in traditional lithographic printmaking techniques for the first time, world-renowned talent Oliver Jeffers has created a poignant modern-day fable to touch the hearts of adults and children alike. ...Show more
$17.99
AUD
Category: Picture Books | Series: Where's Wally? | Reading Level: Children's - Grade 1-2, Age 6-7
Hours of fun and games await you in this 25th anniversary edition of the classic picture book which kick-started a world-wide phenomenon. Search for Wally and his friends fiendishly hidden in every intricately-detailed scene.
$16.99
AUD
Category: Fiction | Series: The Strangeworlds Travel Agency
Pack your suitcase for a magical adventure! Perfect for fans of The Train to Impossible Places and The Polar Bear Explorers' Club. At the Strangeworlds Travel Agency, each suitcase transports you to a different world. All you have to do is step inside . . . When 12-year-old Flick Hudson accidentally end s up in the Strangeworlds Travel Agency, she uncovers a fantastic secret: there are hundreds of other worlds just steps away from ours. All you have to do to visit them is jump into the right suitcase. Then Flick gets the invitation of a lifetime: join Strangeworlds' magical travel society and explore other worlds. But, unknown to Flick, the world at the very centre of it all, a city called Five Lights, is in danger. Buildings and even streets are mysteriously disappearing. Once Flick realizes what's happening she must race against time, travelling through unchartered worlds, seeking a way to fix Five Lights before it collapses into nothingness - and takes our world with it. A magical adventure for 9+ readers that will take you to whole new worlds.   ...Show more
$16.99
AUD
Category: Board Books
Meet Bingo! Bingo Heeler loves getting lost in her own world, talking to tiny bugs and, of course, relaxing in her relaxing chair! Get to know all about Bluey's little sister in this fun shaped board book. Bluey has been a phenomenal success since airing on ABC KIDS in October 2018, amassing legions of dedicated fans and taking the coveted position of being the most watched program ever on ABC iView, with over 170 million plays. It has also topped the Australian iTunes Kids Chart with the series peaking at #1 and consistently remaining in the Top 5. ...Show more
$19.99
AUD
Category: Picture Books | Series: Seriously, Do Not Open This Book
He¿s back¿ AGAIN! This cheeky blue character is willing to forgive you for what happened last time¿ but he SERIOUSLY does not want you to open this book or turn its pages. What reason does he have this time? This fun story will delight children and adults alike. Keep turning the pages and find out what happens when you reach the end all over again, if you dare! ...Show more