$22.99
AUD
Category: Fiction
Fly into a fiery and fantastical future with No. 1 bestselling author David Walliams, in an epic adventure of myth and legend, good and evil, and one small boy who must save the world… Illustrated by the artistic genius Tony Ross! It is 2120 and London is in ruins. The young Prince Alfred has never k nown a life outside Buckingham Palace – but when strange goings-on breach its walls and stalk the corridors in the dead of night, he is thrust into a world of mystery, adventure and monsters. And when his mother, the Queen, is dragged away to the Tower of London, Alfred must screw up his courage and battle to save her, himself… and the entire city. In a future of myths and legends, join the bestselling David Walliams and venture forth into his most enthralling tale yet!   ...Show more
$24.99
AUD
Category: Activity Books | Series: Where's Wally?
Join Wally and his friends for a fun day at the museum. This fantastic collection of favourite Wally scenes challenges readers to spot over 500 differences, ranging from tricky to fiendish to diabolical! Join Wally for a day at the museum! Oggle at artefacts and gawp at galleries as you search for Wall y and his friends. And that's not all: this book contains double the trouble, with over 500 challenging differences to spot! The ultimate test for eagle-eyed Wally-Watchers, this brilliant book will help you experience the World of Wally in a whole new way! ...Show more
$14.99
AUD
Category: Fiction | Series: Bad Guys
The Bad Guys - I mean, Shadow Squad-G - have saved the world from butt-handed evil and now its time to PARTY! But Mr Snake doesn't feel like partying. Ohhh, no. He's WAY too powerful for that. Mr Snake would rather mess with things that could RIP OPEN A DOORWAY into a whole new world of horror, mayhem a nd... BLOOD-CURDLING BADNESS. Better put your party pants on ice. Its the Bad Guys Episode 11!   ...Show more
$17.99
AUD
Category: Picture Books | Series: Where's Wally?
Join Wally on his quest through bizarre and magical fantasy lands. Hidden in every intricately-detailed scene are Wally and his friends - so let the hunt begin
$14.99
AUD
Category: Classics | Series: Penguin Modern Classics Translated Texts Ser.
Moral allegory and spiritual autobiography, The Little Princeis the most translated book in the French language. With a timeless charm it tells the story of a little boy who leaves the safety of his own tiny planet to travel the universe, learning the vagaries of adult behaviour through a series of extr aordinary encounters. His personal odyssey culminates in a voyage to Earth and further adventures. Letter to a Hostage, which contains certain themes that were to appear in The Little Prince, is Saint-Exupery's optimistic and humane open letter to a Jewish intellectual hiding in occupied France in 1943. ...Show more
$24.99
AUD
Category: Reference | Reading Level: Eve Pownall Award
Bruce Pascoe has collected a swathe of literary awards for Dark Emu and now he has brought together the research and compelling first person accounts in a book for younger readers. Using the accounts of early European explorers, colonists and farmers, Bruce Pascoe compellingly argues for a reconsiderati on of the hunter-gatherer label for pre-colonial Aboriginal Australians. He allows the reader to see Australia as it was before Europeans arrived — a land of cultivated farming areas, productive fisheries, permanent homes, and an understanding of the environment and its natural resources that supported thriving villages across the continent. Young Dark Emu — A Truer History asks young readers to consider a different version of Australia's history pre-European colonisation. ...Show more
$15.99
AUD
Category: Fiction | Series: Wolf Girl
A wildly exciting adventure series from bestselling author Anh Do. Gwen has been searching for her family for a long time. Just when she feels she is close, the soldiers following her start to close in. Then one of her dogs is injured, and the gang must slow down...Who can Gwen trust? And how will she k eep her pack safe from dangerous enemies? Does this spell disaster for the one and only Wolf Girl? ...Show more
$17.99
AUD
Category: Picture Books | Series: Piranhas Don't Eat Bananas
Brian the Piranah wants to try new foods. But his friends think he's silly. Why would a piranha want to eat a banana, or any of his vegetables when there are more delicious foods to eat? Can Brian convince his friends to try a new food?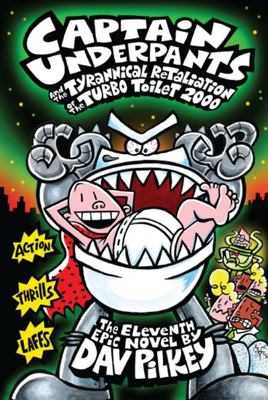 $12.99
AUD
Category: Fiction | Series: Captain Underpants
When the Incredible Robo-Plunger defeated the evil Turbo Toilet 2000, George and Harold thought their toilet troubles were over. Unfortunately, their porcelain problems were only beginning. Just when you thought it was safe to flush, the Turbo Toilet 2000 strikes back! The carnivorous commode known for devouring everything in its path has built up a real appetite... for REVENGE! Join Captain Underpants for another epic showdown of Wedgie Power vs Potty Power as our tighty-whitey-wearing superhero GOES TO ELEVEN! ...Show more
$14.99
AUD
Category: Fiction | Series: The Bad Guys
The Bad Guys are back with a daring plan to rescue 10,000 chickens from a high-security cage farm! But how do you rescue chickens when one of you is known as The Chicken Swallower? Join The Bad Guys as they return for more dodgy good deeds with a new
$17.99
AUD
Category: Picture Books | Series: Where's Wally?
Follow Wally, if you can find him, through an extravaganza of Hollywood's classic films. This book will be irresistible to all Wally fans, old and new.
The Book Tree
by Paul Czajak; Rashin Kheiriyeh (Illustrator)
$12.99
AUD
Category: Picture Books
When young Arlo accidentally drops a book on the Mayor's head, the Mayor decides books are dangerous and destroys all the books in town! But thanks to Arlo's imagination and perseverance, the Mayor finds that suppressing stories cannot stop them from blossoming more beautifully than ever.