$14.99
AUD
Category: Fiction | Series: Treehouse
The latest addition to Andy Griffiths and Terry Denton's internationally phenomenal Treehouse series.Andy and Terry live in the world's craziest treehouse. They like making books and telling jokes. And now they've made the world's funniest joke book. Again!From fairytale fun to classroom capers and movi e madness, there are jokes galore for the whole family. An especially perfect book for fans of the Treehouse series. Q: What did one ghost say to the other ghost? A: Do you believe in people? ...Show more
$14.99
AUD
Category: Fiction
A fun and exciting story of footy, family, friends and fair play from one of Australia's favourite rugby league players.Twelve-year-old Teddy is woken by his dad in the middle of the night. A freak storm is raging, and there's an emergency at the rugby league fields. They have become a mud-pit, and the Meerkats Rugby League Club is no longer. If Teddy wants to keep playing rugby league, he will need to join his arch rivals - the Camden Rams. Based on James's own footy-playing childhood, Hat-Trick Teddy encourages kids to follow their dreams regardless of the obstacles in their way.James is a hugely popular NRL superstar and a fantastic role model for boys and girls. He completed his PE Teacher degree in 2016, and loves to mentor kids whenever he can.Perfect for fans of David Warner's The Kaboom Kid!, Tim Cahill's Tiny Timmy, Anh Do's Weirdo series and the Treehouse series ...Show more
$26.99
AUD
Category: Fiction | Series: Our Australian Girl: 1808 Ser.
For the first time, read all four Grace stories in one beautiful hardback edition.It's 1808 . . .and Grace's world is about to change - from her tough life as a mudlark on the River Thames in London, to the adventures and challenges she faces as a servant girl in a new country.Journey with Grace across all four exciting stories about a convict girl who's given a second chance.Dreamy, thoughtful, brave and compassionate, Grace is an unforgettable Australian Girl.  ...Show more
$4.99
AUD
Category: Fiction | Series: Skulduggery Pleasant
Three ancient gods are freed from their prison with only one desire: to destroy the planet and everyone on it. To save us all, Skulduggery Pleasant and Valkyrie Cain must go undercover in a Dublin school. Skulduggery has to blend in with the teaching staff, while Valkyrie has to pass for an ordinary sch oolgirl. Above all else, no matter what happens, they both must act completely and utterly normal. We are so dead.   ...Show more
$2.99
AUD
Category: Fiction
The annual Pharos Trainee Spy Games competition is being held at Alexandria and Kensy and Max can't wait to participate - and win! The challenges include an obstacle course, driving races, extreme parkour, coding and the big one - a treasure hunt, full of danger and intrigue. The prizes for the games ar e legendary, and with only one champion, the twins are forced to go head to head. When the stakes are raised with news of a saboteur in their midst, Kensy and Max must put all their spy skills to the test. Who is the double agent? And which of the trainee spies has what it takes to emerge victorious? A special Kensy and Max story for Australia Reads. ...Show more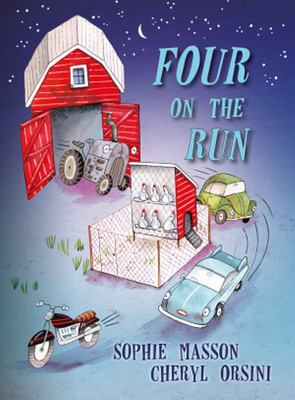 Four on the Run
by Sophie Masson; Cheryl Orsini (Illustrator); Authors' Elves (Designed by)
$13.99
AUD
Category: Fiction
Maxie, Fergie, Flash and Lady are good friends who live in Mrs Brown's farm shed. Life isn't exciting, but they're happy. Until the day they learn that Mrs Brown wants to sell them--to the scrap yard! So they decide to run away: and suddenly life becomes very exciting for the four lovable machines in a series of madcap adventures that will change everything.This is an exciting, funny chapter book, with warm and interesting characters who just happen to be machines! With lively, appealing illustrations by Cheryl Orsini, Four On the Run is a fresh and original adventure which is great both for reading aloud to pre-literate children and for young readers to read for themselves. ...Show more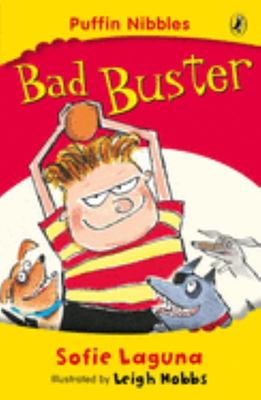 $9.99
AUD
Category: Fiction | Series: Aussie Nibbles | Reading Level: From 6 To 8
Being bad was what Buster did best. Until his dad thought of a way to sort him out. Paperback
$17.99
AUD
Category: Fiction | Series: Dog Man
A brand-new graphic novel series by Dav Pilkey, the internationally bestselling author and illustrator of the DOG MAN and CAPTAIN UNDERPANTS series. Welcome to the Cat Kid Comic Club, where Li'l Petey (LP), Flippy, and Molly introduce twenty-one rambunctious, funny, and talented baby frogs to the art of comic making. As the story unwinds with mishaps and hilarity, readers get to see the progress, mistakes, and improvements that come with practice and persistence. Squid Kid and Katydid, Baby Frog Squad, Gorilla Cheese Sandwich, and Birds Flowers Tree: A Haiku Photo Comic are just some of the mini-comics that are included as stories-within-the-story, each done in a different style, utilizing humour and drama, prose and poetry, illustrated in different media including acrylics, pastels, coloured pencils, felt-tip markers, clay, hand-made cardboard sculptures, photographs, pipe cleaners, construction paper collages, and cookies. Readers of all ages will be inspired to dream up their own stories and unleash their own creativity as they dive into this pioneering graphic novel adventure from Dav Pilkey and his heartfelt, humorous, and amazing cast of characters in the Cat Kid Comic Club. ...Show more
$12.99
AUD
Category: Fiction | Series: Cowboy and Birdbrain | Reading Level: 7
Cowboy and Birdbrain are best friends who work for I.F.F.Y. delivery company, a company that do the riskiest, zaniest, most bizarre deliveries ever. They're known for their F.A.R.T.S. (Fast and Reliable Tracking Service). Cowboy is the brains of the operation, and Birdbrain - well, he is a brain but he' s just not brain-y if you get the drift... Anyway, this dubious duo are not the best or even second-best deliverers at IFFY DELIVERIES. They're the WORST. But they're also the funniest! Join Cowboy and Birdbrain on their WACKY adventure, when their boss gives them the following job: URGENT DELIVERY! To: Ship in the Middle of the Ocean. WARNING: Do not get package wet! ...Show more
$14.99
AUD
Category: Fiction | Series: Do You Dare?
Fighting Bonesis the convict-era adventure in this series of exciting, action-packed Australian stories for boys aged 8 to 12. Irish brothers Danny and Declan Sheehan are inmates at Tasmania's Point Puer prison for convict boys in 1836. When tragedy strikes and the prison bully is on the rampage, escap e is their only chance to survive... But will they dare? It's an adventure in history. Do youdare? ...Show more
$15.99
AUD
Category: Fiction | Series: Wolf Girl | Reading Level: 8 Kids Middle Readers
A wildly exciting new adventure series from bestselling author Anh Do. I crawled onto the bank and collapsed, exhausted. From the dirt, I looked up in amazement at four dogs staring down at me. Was I dreaming? Had I gone mad? It all seemed very real. 'You guys saved me!' I said, as I sat up in my drippi ng clothes. 'I owe you.' When disaster separates Gwen from her family, she must fend for herself, all alone in the wilderness.  Luckily, she's not alone for long… When a wolf puppy, a Labrador, a Chihuahua, and a greyhound want to make friends, Gwen discovers talents she didn't know she possessed.  It will take all her new skills and strength just to survive. Does Gwen have what it takes to be leader of the pack? ...Show more
$17.99
AUD
Category: Fiction | Series: Dog Man
There's a new bunch of baddies in town, and they have something sinister in store for Petey the Cat. Once again, Dog Man is called into action–but this time he isn't alone. With a cute kitten and a remarkable robot by his side, the Supa Buddies must join forces with the most unlikely of heroes to save t he day. But will that villain Petey avoid vengeance and finally venture toward virtue? ...Show more