$12.99
AUD
Category: Fiction | Series: Cowboy and Birdbrain | Reading Level: 7
Cowboy and Birdbrain are best friends who work for I.F.F.Y. delivery company, a company that do the riskiest, zaniest, most bizarre deliveries ever. They're known for their F.A.R.T.S. (Fast and Reliable Tracking Service). Cowboy is the brains of the operation, and Birdbrain - well, he is a brain but he' s just not brain-y if you get the drift... Anyway, this dubious duo are not the best or even second-best deliverers at IFFY DELIVERIES. They're the WORST. But they're also the funniest! Join Cowboy and Birdbrain on their WACKY adventure, when their boss gives them the following job: URGENT DELIVERY! To: Ship in the Middle of the Ocean. WARNING: Do not get package wet! ...Show more
Slime
by David Walliams
$19.99
AUD
Category: Fiction
 Welcome to the Isle of Mulch! Home to a large number of awful adults who like nothing more than making children miserable. And the island is owned by the most awful one of all – Aunt Greta Greed! Something needs to be done about them. But who could be brave enough? Meet Ned! Ned has lived on Mulch all his life and whilst trying to get his own back on his trickster sister, Jemima, he discovers one of the great mysteries of the world – slime! What is it? Who is it? Where does it come from? And how does Ned use slimepower to take on the horrible grown-ups of Mulch? ...Show more
$9.99
AUD
Category: Fiction | Series: Puppy Diary
SOLD OUT Hi! Im Archie! Im a Schnoodle puppy and I love writing all about my PAWESOME adventures in my diary! Read all about my puppy pals at doggie daycare and all the adventures we go on together! Archie is going to his first day of doggie daycare. He meets a whole gang of new friends and loves playi ng in the garden. But Archies most favourite toy, Foxy, goes missing! In fact, all his friends toys have gone missing too! Can Archie help his puppy friends find the missing toys? ...Show more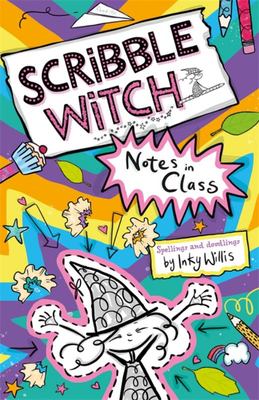 $14.99
AUD
Category: Fiction | Series: Scribble Witch Ser.
Welcome to the new magical series about a girl and her secret scribble witch, guaranteed to make 7-9s laugh out loud. When Molly's best friend announces that she's moving to a new school, a blue Wednesday becomes the Worst Wednesday Ever. That is until some unexpected magic brightens up Molly's day. N otes, a tiny paper witch who has been lurking in a pen pot, springs to life - and into action! Some of the things Notes does are absolutely NOT helpful and get Molly into trouble with her grouchbag teacher. But it's surprising what one tiny witch, armed with nothing more than a pencil, can achieve before the bell for home time rings... With a vibrant, unique voice, and amazing illustrations to match, Inky Willis conjures up magic for every reader!   ...Show more
$15.99
AUD
Category: Fiction | Series: WeirDo
The school swimming carnival is on and Weir isnt looking forward to ANY of it! Not the TINY cozzies! Or getting water UP HIS NOSE! And especially not the RACING! Can Weir win for his team? It wont be easy... but it will be FUNNY!
$15.99
AUD
Category: Fiction | Series: Weirdo | Reading Level: 7+
Book 12 in the HILARIOUS best-selling series from ANH DO and Jules Faber! Mum's got a cool new job at the animal hospital... but now Weir's house is like a ZOO! How can Bella and Weir help look after all the animals AND finish their school project?! It won't be easy... but it will be FUNNY!
$22.99
AUD
Category: Fiction
Fly into a fiery and fantastical future with No. 1 bestselling author David Walliams, in an epic adventure of myth and legend, good and evil, and one small boy who must save the world… Illustrated by the artistic genius Tony Ross! It is 2120 and London is in ruins. The young Prince Alfred has never k nown a life outside Buckingham Palace – but when strange goings-on breach its walls and stalk the corridors in the dead of night, he is thrust into a world of mystery, adventure and monsters. And when his mother, the Queen, is dragged away to the Tower of London, Alfred must screw up his courage and battle to save her, himself… and the entire city. In a future of myths and legends, join the bestselling David Walliams and venture forth into his most enthralling tale yet!   ...Show more
$16.99
AUD
Category: Fiction | Series: Dog Man
Has Dog Man finally found the purr-fect sidekick? Find out in the latest in the #1 New York Times bestselling series! Hot diggity dog! Dog Man, the newest hero from Dav Pilkey, the creator of Captain Underpants, is back -- and this time he's not alone. The heroic hound with a real nose for justice now has a furry feline sidekick, and together they have a mystery to sniff out! When a new kitty sitter arrives and a glamorous movie starlet goes missing, it's up to Dog Man and Cat Kid to save the day! Will these heroes stay hot on the trail, or will Petey the World's Most Evil Cat send them barking up the wrong tree? ...Show more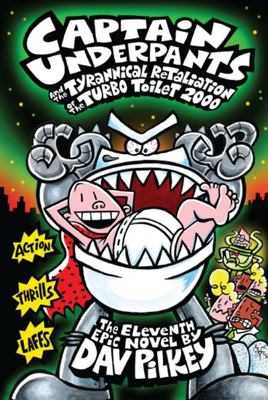 $12.99
AUD
Category: Fiction | Series: Captain Underpants
When the Incredible Robo-Plunger defeated the evil Turbo Toilet 2000, George and Harold thought their toilet troubles were over. Unfortunately, their porcelain problems were only beginning. Just when you thought it was safe to flush, the Turbo Toilet 2000 strikes back! The carnivorous commode known for devouring everything in its path has built up a real appetite... for REVENGE! Join Captain Underpants for another epic showdown of Wedgie Power vs Potty Power as our tighty-whitey-wearing superhero GOES TO ELEVEN! ...Show more
$14.99
AUD
Category: Fiction | Series: The Bad Guys
The Bad Guys are back with a daring plan to rescue 10,000 chickens from a high-security cage farm! But how do you rescue chickens when one of you is known as The Chicken Swallower? Join The Bad Guys as they return for more dodgy good deeds with a new
$14.99
AUD
Category: Fiction | Series: Max and the Midknights
'Max is epic fun!' Jeff Kinney, bestselling author of the Diary of a Wimpy Kid series. 'Fantastic! I loved it!' Dav Pilkey, beselling author of the Dog Man series. Join Max's quest to become a knight in this laugh-out-loud New York Times bestselling adventure! Max wants to be a knight - too bad that dre am is about as likely as finding a friendly dragon. But when Max's uncle Budrick is kidnapped by the cruel King Gastley, Max has to act . . . and fast! Joined by a band of brave adventurers - the Midknights - Max sets out on a thrilling quest: to save uncle Budrick and restore the realm of Byjovia to its formerglory! Magic and (mis)adventures abound in Max and the Midknights, a hilarious illustrated novel from the New York Times bestselling creator of the Big Nate series, Lincoln Peirce. ...Show more
$15.99
AUD
Category: Fiction | Series: Ninja Kid
Nelson and Kenny have been CLONED! Robot Nelson and Robot Kenny are faster, smarter and better dancers! But when the clones spin out of control at school camp, can the REAL Nelson and Kenny SAVE THE DAY?